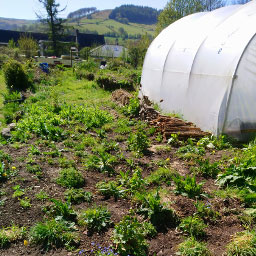 Some of you may have noticed two busy bees getting to work in the new wildflower area next to the poly tunnels. Last Autumn, we set Friend of Redacre and co-founder of Hebden Royd Wildflower Collective Natalie Pownall the challenge of transforming a neglected area into a wildlife friendly haven for insects, amphibians and wildflowers!
"UK Wildlife conservation is a real passion of mine, so much so I do it for a living as a National Trust Ranger! When I was first asked to lead on this project I couldn't say no! It has been wonderful so far meeting you all and discovering what wildlife call Redacre their home. I've recorded breeding Toads, Smooth newts, 7 species of butterfly including my favourite Brimstone and a scary looking Devil's coach horse beetle to name a few!"
With the help of her partner Ben, they got to work recycling existing plants such as Teasel, Garlic mustard and Red campion and transplanting them into the ground that has been covered with thick tarpaulin for several years. 100's of wildflowers have been planted with the addition of native wildflowers and grass seed sprinkled in the gaps to help improve the soil and provide a huge nectar source.
The new palette bug hotel which was rescued from the disabled parking area has been given a makeover with a new wildflower roof and lots of hidey holes for bugs to shelter, overwinter and breed in. Natalie and Ben also reused stone, willow stems and rotting timber from site to show how easy it is to provide an attractive new habitat in a small space using 'waste' material.
A note on 'weeds'
"For me, there is no such thing as a weed and all native weeds are useful to wildlife and us! Some are more of a nuisance than others though especially in veg patches and gardens so there is a fine art to keeping 'weeds' in check but also leaving them to provide invaluable food and shelter to a whole host of wildlife in particular insects which need help due to habitat loss and climate change. Dandelions, docks, nettles and even pesky bind weed are all important nectar sources and food plants for bees, butterflies, moths, beetles and birds including the honey and wild bees, Peacock, Red admiral and Small tortoiseshell butterflies, Knot grass moth and the iridescent Dock beetle and many seed eating birds like House sparrows and Goldfinches."
Natalie has left a gap between the bug hotels so that polytunnel weeding can take place by members
We can't wait to watch the wildflower area develop but there are a few more jobs to do that our members and friends can help with to top up their community hours.
Fill the bug hotel with natural material, think logs and dead stems.
Natalie will then net the bug hotel to keep it all in place.
Create a bark chip path in front of the bug hotel with left over mulch.